Recently, Steve Magness, the cross-country coach at the University of Houston, wrote a
very interesting blog entry
. In short, he argued two things. First, he said that there are numerous ways to accomplish a desired training end, be it increased strength, endurance, VO2, speed, or whatever else. When it comes to workouts, one size does not fit all. Second, and more interestingly in my opinion, he said that seasoned athletes need to employ new means of accomplishing the same ol' physical goals (faster, higher, stronger, and all that) given that their bodies over time become adjusted to the workload. For example, if your go-to lactate threshold workout for the last few years has been to do a forty-minute tempo run, you might get a better training response from doing a different LT workout (like, say, cruise intervals). This has a particular relevance for adult athletes, such as myself and the folks I coach. If we're looking for a performance breakthrough after years and years of training, we can potentially attain one by doing new things.
Of course, "changing it up" is not a novel concept. It's the basis of a lot of well-known programs.
P90X
, for one, expressly attempts to "confuse your muscles," the basic idea being that your body--which masterfully and quickly adjusts to any abnormal stimulus in order to maintain its current state--cannot successfully adjust to an ever-changing workout routine. Therefore, P90X keeps your body constantly on edge by giving it ever-different challenges, never allowing it to settle into a homeostatic state and thus prompting continual fat loss and muscle growth. The science on which this is based, however, is not rock-solid, and
a lot of folks vehemently argue
that regularly switching up your routine has a sort of "jack of all trades, master of none" effect on your fitness.
Unlike those who buy P90X in an attempt to build muscle, lose fat, and simply "get healthy," Magness has a specific goal in mind: to make faster runners. As such, it would be a mistake to think that you'll find Magness's runners doing Kenpo. He still believes that runners need certain basic elements to run fast--a high max VO2, a high lactate threshold, etc. It's just that there are numerous ways to develop each of the particular elements an endurance athlete needs. That being said, the underlying presumption is the same: ultimately, if an athlete does the same thing, workout after workout, year after year, he'll reach a plateau. It will be impossible to go on to the next level unless you change things up. It may not take only two or three weeks like the folks at P90X say, but it will ultimately happen.
In that spirit, I've been experimenting a great deal lately. As I've already written,
I started going to a master's swimming class in January
, and I'm planning to continue attending it three times a week between now and June. In class, I use equipment and do drills, none of which I had ever done before. It is my hope that the buoys, fins, paddles, and kickboards, along with the head-taps, underwater recoveries, straight arm catch-up strokes, and chicken strokes will make me stronger and faster in the water. We'll see when I do my first triathlon of the year, the John Tanner Sprint on 4/27. More importantly, we'll see what happens when I line up for my first big target of the year, the Mountain Madness half-ironman on 5/5.
And as I've already written,
I've been running some shorter road races
over the last few months. Since that post, I've run two additional 5Ks, the
Marietta Mentor 5K
and the
Janeen's Run 5K
. Here's a photo taken by Don McClellan at the Mentor 5K that is so blurry as to almost be artistic:
It's not the photographer's fault: the weather was pretty terrible. That was a tragedy, because it kept a lot of people from showing up for what was a great event.
Besides the weather--which for Janeen's Run was gorgeous--the two races were very similar for me. I showed up to run them mostly because I wanted to support the causes they were raising money for. In each of them, I ran to the front in the first 200 yards or so, and I won by over 2:00. In each, I ran about 16:30, which feels much easier now than it did in January. I believe that that was the whole point of doing all of the short races. Like I said about the swimming, though, we'll have to see whether it makes any difference in how well I run off the bike. My first chance to try that will be next weekend at the
PT Solutions Cartersville Duathlon
.
I have also changed up my run training a bit. I've spent a lot of my life running in circles, be it around a track or around the dirt path in the park across the street from our house. 6x1600 w/ 400 rest. 10x400 w/ 100 rest. 4x1200 w/ 300 rest. I've done each of these workouts countless times. That's not to say that they weren't valuable; they were! It's only to say that I have a certain modus operandi, and it's likely that my body has become accustomed to it. This winter and spring, I've been doing more repeats on the road (like 10x1:00 w/ 1:00 rest on a hilly course) and on the treadmill (like 4 miles at 6:00 pace with gradually increasing inclines). In addition, I'm going to experiment with adding tempo miles at the end of my long runs. I think that I can run faster than I have been; we'll see if these things help.
Bike training? That's different, too. Right now, I'm riding four times a week, which is about the most that I can ride in a triathlon schedule. Three of those rides, though, are only an hour long, and they're on the trainer. Each of them features some amount of intensity, even though the overall rides are short. Once a week, I'm getting a longer ride of three to five hours. I'll bump up my overall volume when I start training for Ironman Wisconsin after RAAM, but for now, I'm going shorter and harder, much like what Chris Carmichael suggests in The Time Crunched Cyclist. Of all of the training changes I'm making, this one makes me most nervous. I worry that I'm not getting enough volume to be able to do well on the 56-mile hilly bike course at Mountain Madness. We'll see.
Also in the name of approaching old things in a new way, I decided to join the
Atlanta Triathlon Club
, as you can see from my shirt in all of the pictures of me running recently. The ATC has a wide range of athletes, and they provide a lot of group training opportunities. Last year, I trained for Ironman Coeur d'Alene and the Ironman World Championships almost entirely solo, save for a few group rides and some time I spent with my wife. I've resolved not to do that this year. Tonight, I'm heading to a group run staged by ATC. Tomorrow, I'll be doing a trainer class that they offer at
Energy Lab
. So far, I'm very impressed with the community.
And, finally, I've been experimenting with new footwear. In December, my parents purchased for me a pair of
Newton
running shoes. Newtons are all the rage in the triathlon community, but since I come from a running background, I have been loathe to jump on the bandwagon. I spent a long time talking to the Newton rep at an event for
Power, Pedals, and Ponytails
, and then I spent an even longer amount of time talking to my knowledgeable friends at
West Stride
. When my parents offered to give me a pair of Newton Gravitys for Christmas--thereby relieving me of the guilt associated with gambling a lot of money on a pair of shoes that I may actually dislike--I decided to give them a try. They came in bright red:
Newtons are not minimalist shoes," the rep told me with the full knowledge that I was a long-time runner who was skeptical of the barefoot running movement. (Yes, I believe that human beings were "born to run." No, I don't believe that we were born to run on concrete or that all running injuries emerge from improperly sloping shoes.) He was mostly right. While they are lighter and lower profile than many trainers, they still have a decent amount of cushioning. They have a feel analogous to an old-school well-cushioned racing shoe such as the Nike Dualists that I used to wear back in the day. The lugs on the front took a few steps to get accustomed to, but they really didn't bother me.
So, am I a hardcore convert to Newtons as so many people seem to be? No. Have I benefited from running in them, though? Yes, I believe I have. I don't think that Newtons are the best thing since sliced bread, even though I did like them enough to buy a second pair--the slightly lighter but equally loud-colored Distance model, which I have used in races: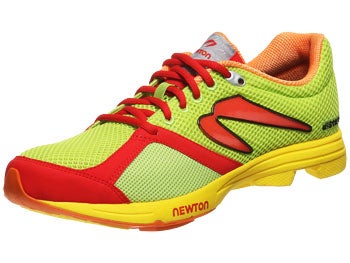 Why buy a second pair? I have come to believe that heel drop matters. In the same way that a high heel will cause you to stick your butt out, lower heels will cause your hips to tuck under you. Since I have struggled in my career with running injuries related to my hips, a shoe that stabilizes my stride by putting my hips more squarely under me is a good thing. My next pair of shoes, whatever they are, will have a heel drop of five millimeters or less.
I'm due for a new pair of shoes in the next few weeks, and I've spent plenty of time scouring the internet in search of a pair of shoes with a low heel drop that aren't also feather-light. They are hard to find. Virtually every shoe that has a heel drop of five millimeters or less also weighs eight ounces or less. Under eight ounces has always been racing-flat territory; my beefier training shoes were normally upwards of twelve ounces. I liked it this way for a variety of reasons, including the fact that donning racing flats made me feel springy and fast and put me in the right frame of mind to race. It appears that the time may have come for me to give up my "heavy trainer but light racer" mentality in favor of a "light shoes all the time" mentality. After all, as
this outstanding article from Running Times
points out, shoes in general are getting progressively lighter thanks to the influence of the minimalist shoe movement. Even the clunky old
Air Pegasus
has slimmed down to ten ounces this year.
Of course, only time tells whether experiments pay off. If I am truly committed to experimenting with various things, I should only judge their effectiveness in the long term. Check back with me this time next year.